It's feeling like Fall - FINALLY!
9:30 PM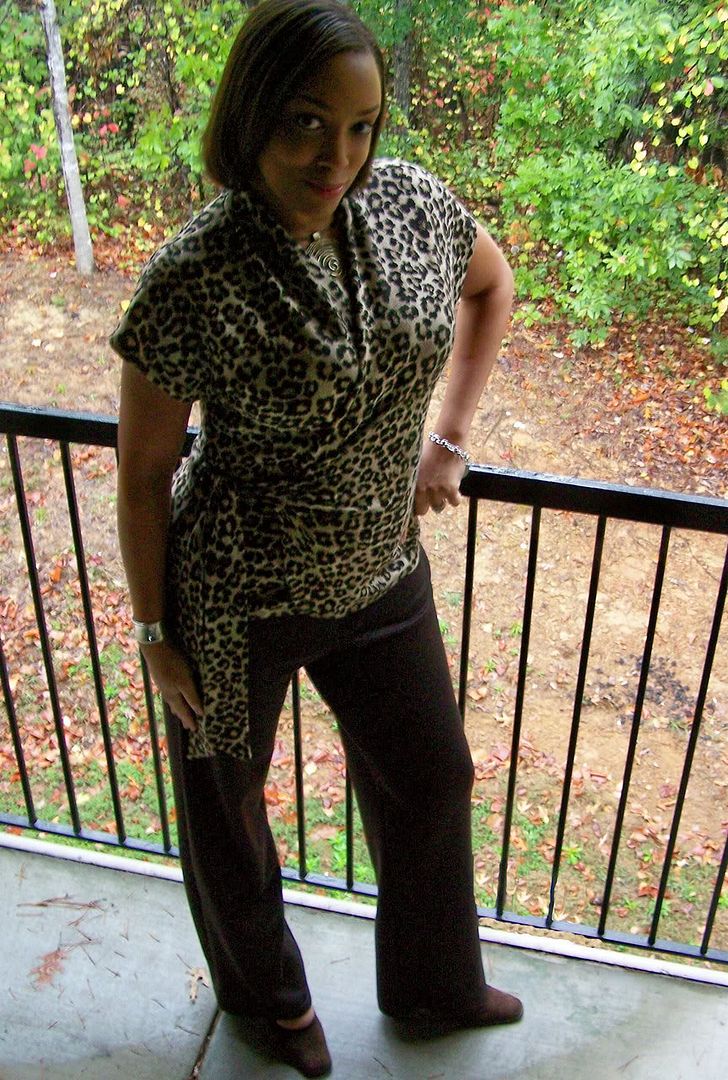 Project Details

Pattern: Butterick 5101 Views A & E
Fabric:
Top: cheetah print knit -50% wool/50% polyester
Pants: brown wool jersey

Description:
Wrap front top with all-in-one sleeve, pleated collar extending into front neckline, side tie and straight leg pants have casing and elastic yoke.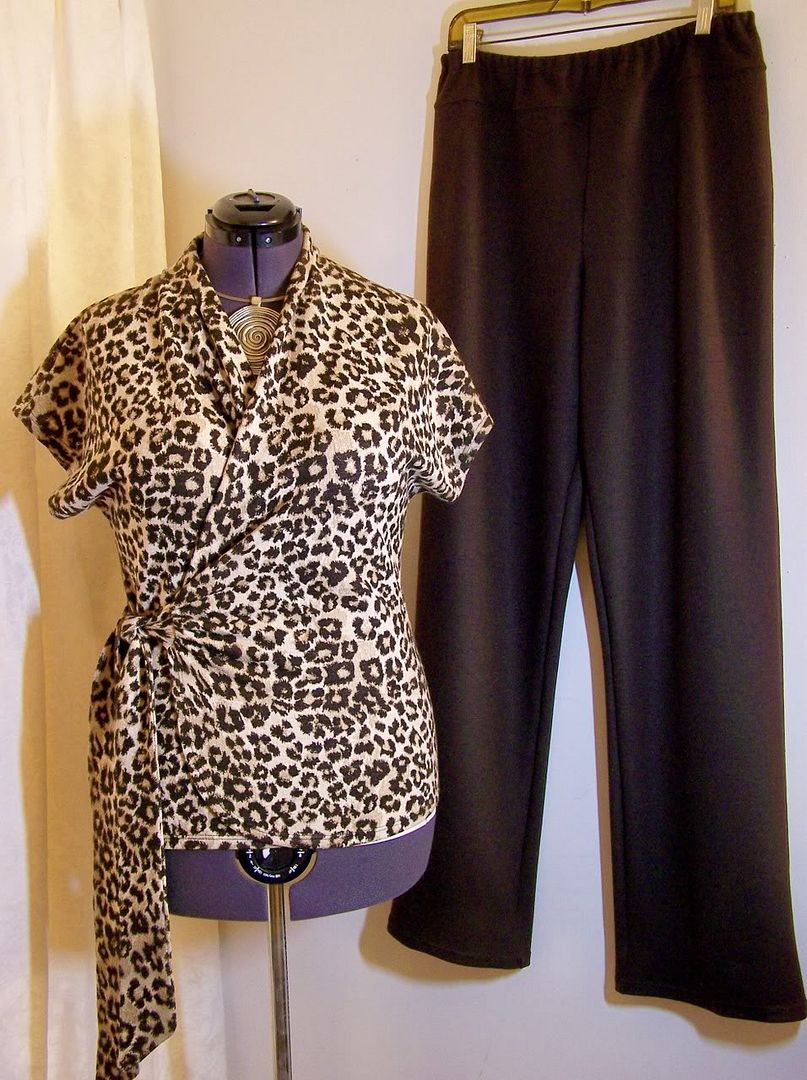 I am really loving knits this season... I wouldn't mind an entire wardrobe of knits and stretch (think
Yansi Fugel
)! I love this pattern! Maybe it was also the fabric I chose that gave this knit outfit the polish it needed to keep from being "ordinary".
I cut both pieces in the size large (the sizes are XS - XL). On the top, I had to lengthen it by 2 inches. I had initially planned to do view B, the long sleeve top but after I added 2 inches to the front and back and also the sleeves, I didn't have enough fabric. Since the sleeves are made into the top as one solid piece, once I made my alterations, my fabric was not long enough (that sucked). So I decided to go with the short sleeve. Another thing that I really like about this top is that it has back darts which creates a very flattering line.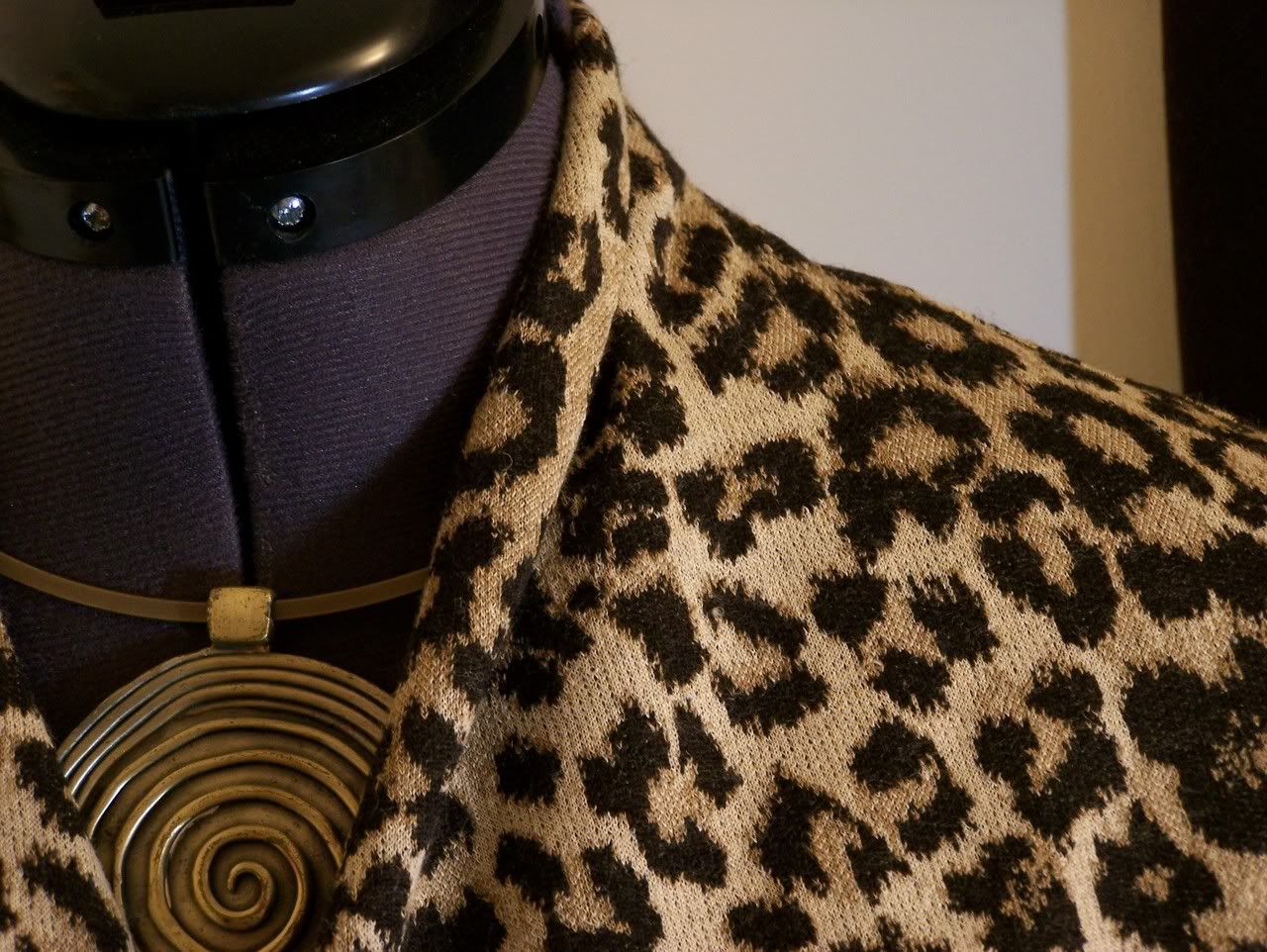 The neckline is pleated. This is created by joining the two front pieces together and stitching the pleats where indicated. Then stitching this part to the neckline of the back pieces to created a self-facing collar.
I added a strip of bias tape and the facing was turned back and slipstitched between the indicated marks. The great thing about this fabric, it has a spongy hand and the slipstitches disappeared into it.
The ties were added next by gathering the fabric underneath the and basting. The final look was one that creating ruching. As we all know, ruching hides a multitude of sins.
I finished with a 5/8" coverstitched hem.


The pants were really easy... basic pants construction. I did however have to add 3 inches to the length. They have a yoke which is sewn on like a waistband. The top of the waistband is folded over and sewn down to create a casing for the elastic waistband. I used a coverstitch for the topstitching on the the "yoke" seam and also on the hem.