Just a little bit of sewing...
1:15 AM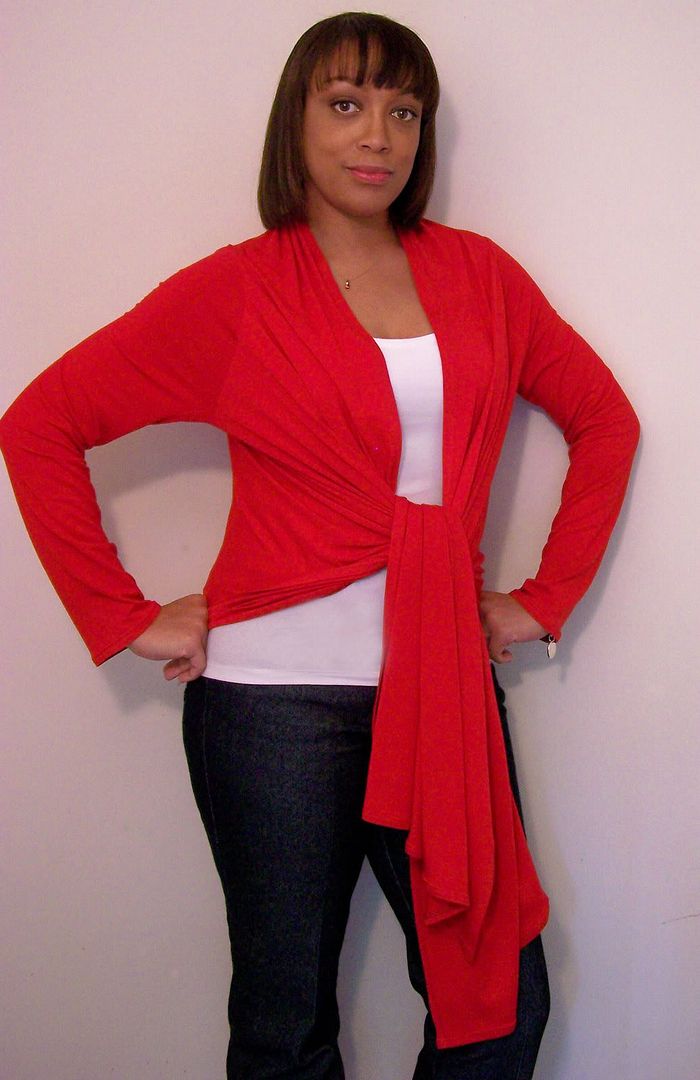 Project Details:

Pattern: Vogue 8138, view A
Fabric: Cotton/Lycra Jersey


Description:
Long sleeve knit cardigan that may be worn open or lower edges can be tied at front waist.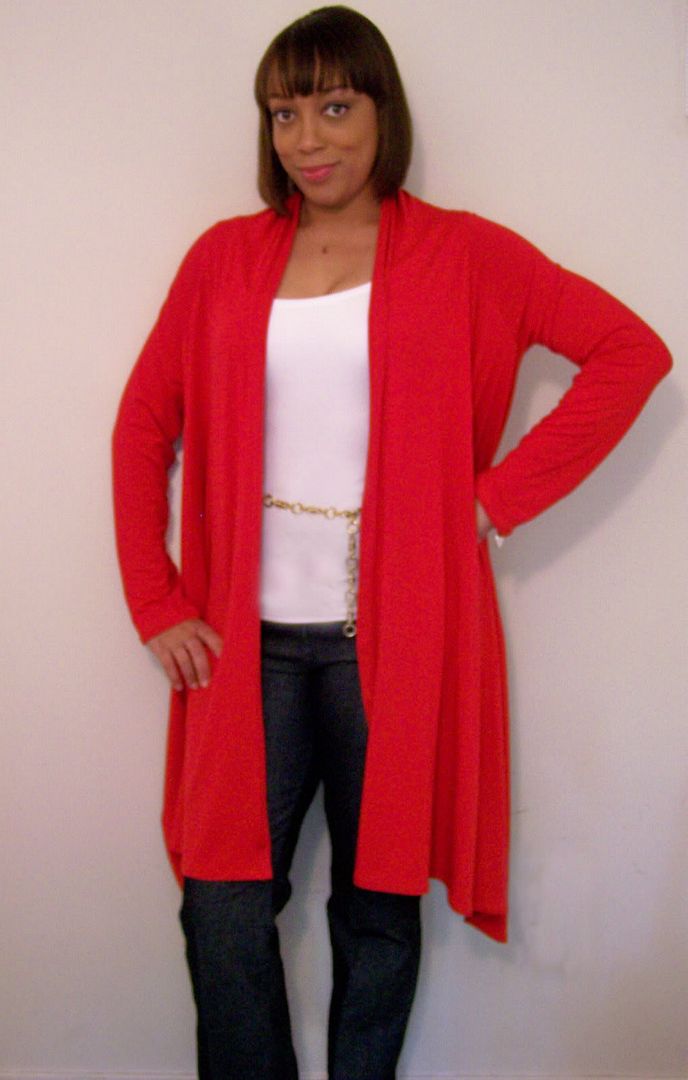 My sewing mojo has been absent lately and I needed something quick and easy to get me back in the game. This is so easy to make... so easy that I whipped this up last Friday afternoon to wear to the movies that night. This pattern is literally two rectangles sewn together (
creating a CB seam
) that you cut holes in to set the sleeves. It took more time to hem than to actually construct. This is the perfect hybrid between a shawl and a cardigan!
I sewed this straight out of the envelope... no alterations needed. It's just one of those pieces that drape naturally and I decided to let it do whatever it does. I had been lusting over high-end pieces like this, especially one by
Maison Martin Margiela
, that retails for $745... mine cost me less than $20! LOL
I read a few reviews on this that were quite negative. To each his own... I like it. I didn't care at all for the other two pieces, but I highly recommend this if this is your particular style... it truly doesn't get any easier than this.
Project Details:
Pattern:
Simplicity 2971, view B
Fabric:
Poly/Lycra Jersey
Another fun and easy top! This is my
second top
from this pattern. I made this one before my trip because I wanted something cool, lightweight and wrinkle-free. And also a non-boring variation on the basic t-shirt.
I followed the directions with the exception of the bottom part. I was suppose to add elastic in the side seams for ruching, but the elastic would not cooperate. So instead, I used elastic thread by hand, which was much easier to work with and control.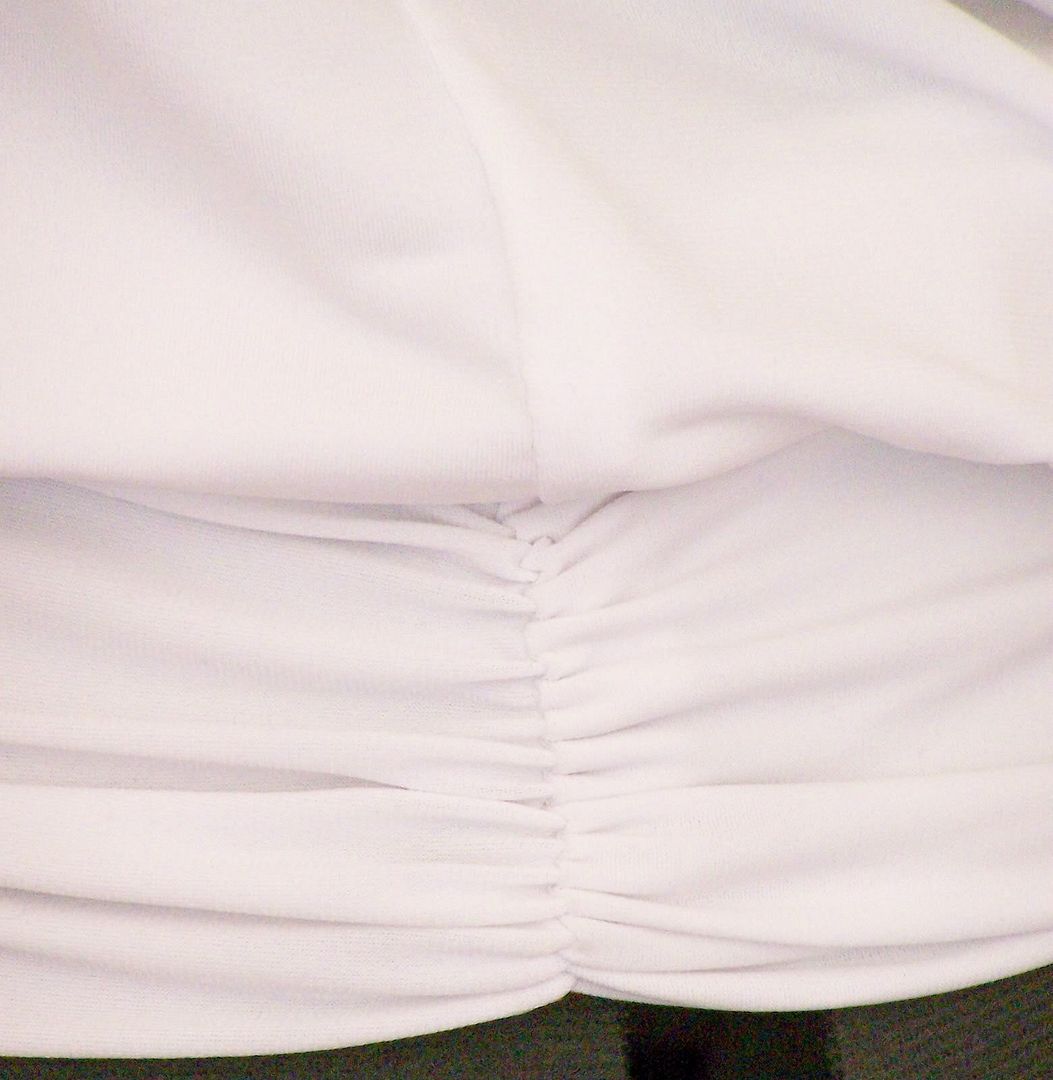 I really love this detail. This is what makes this top more than a plain ole tee.
Up next...
I'm going to participate in the Mini Wardrobe Contest over at PR, which starts August 1st. I'll put together a storyboard sometime today and post it.
Also, I am determined to find/borrow/steal/buy some time this week to work on my coat muslins.