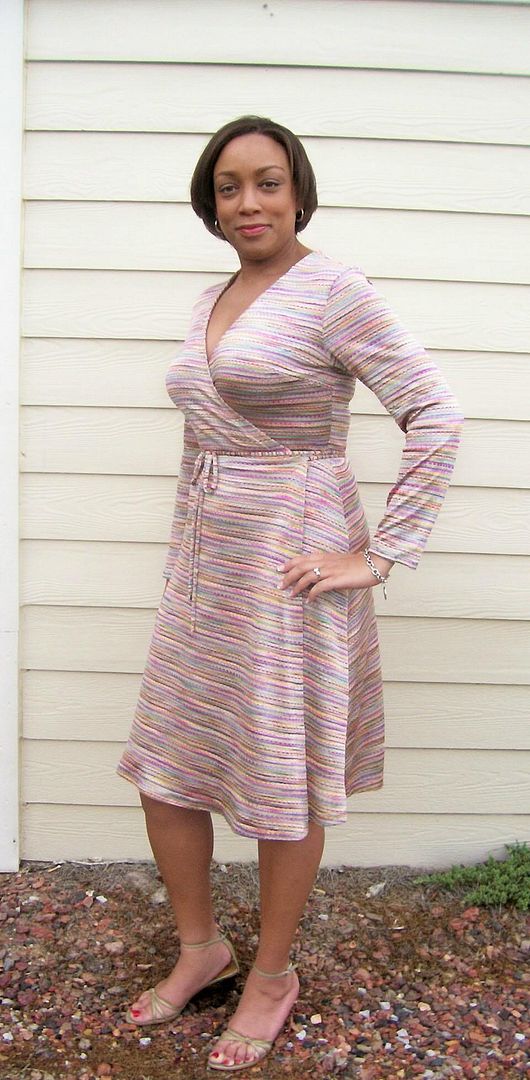 Project Details
Pattern:
Kwik Sew 3408
Fabric:
A textured, Missoni-like knit
I had been searching high and low for a wrap dress (ala DVF) for a while now. My first choice was Simplicity 4074, but it was a complete dissappointment because it's not a REAL wrap dress, it's a faux wrap! Beware if you are/were interested in this pattern... it's not what it appears to be and it doesn't state this on the envelope! The Kwik Sew pattern is great! What I love most is that these are not the tissue patterns that you have to be extremely careful not to rip, they are paper patterns and they made cutting a dream!
The instructions were very straight forward and the illustrations are magnificent! I had no problems with this pattern whatsoever. I have grown quite accustomed to sewing with a 5/8" seam allowance and this pattern only has 1/4" allowance. Since this was a knit, I just used an overlock stitch on the seams. The other thing that I love is that the bodice was cut separately from the skirt which provide the opportunity to really customize the fit. I used the medium bodice and sleeves and the large skirt pieces. The skirt is cut on an A-line which is very flattering to us bootylicious ladies. The reason I chose to use the medium bodice pieces is that from experience, I know that wrap dresses can sometimes gape at the bodice and expose things that we may not want to exposed at the time. The size medium provided me with an almost negative ease and a fit that felt comfortable moving about. This is a pattern that I am definitely going to sew again. In my book, it's a winner.