So, how was your weekend?
2:15 PM
First of all, I'd like to thank you all for the kind birthday greetings. Friday, the DH took me to a nice, casual dinner at
The Cheesecake Factory
. Sometimes, it's just great to get away from the kiddies and have adult conversations that don't include children's issues or bills...
can I get an Amen
? We've been kinda slacking off on our usual date night and the kids end up always tagging along... yeah, that's gonna come to an end!
For my birthday, I like to receive money so that I can do what I want to do with it. Would you like to take a wild guess as to what I spent it on? Gosh, you guys are so smart! That's right -- fabric and patterns!
2.
Butterick 4853
3.
New Look 6619
4.
Butterick 4611
5.
New Look 6620
6.
Butterick 4738
7.
Butterick 4861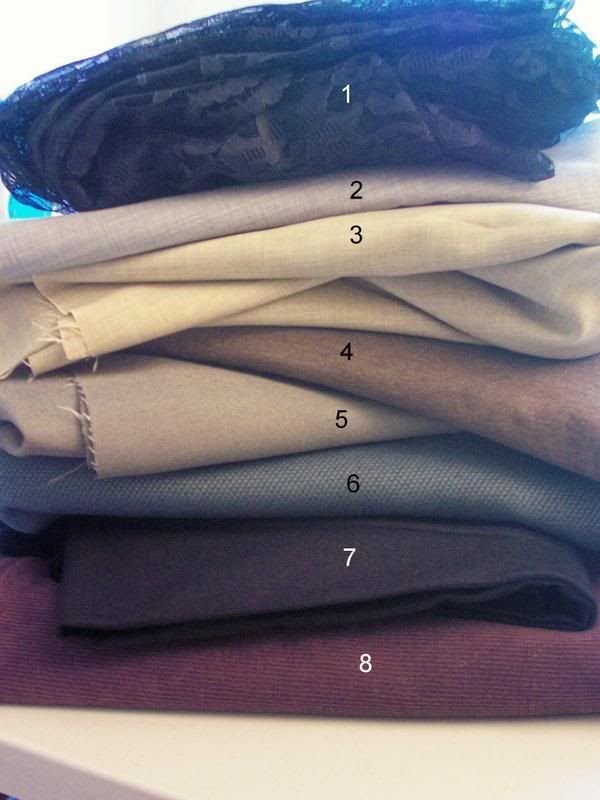 Black scalloped edge lace

Light grey wool suiting
Tan wool suiting
Brown wool jersey
Brown/Black tweed
Green/Black tweed
Black stretch corduroy
Burgundy corduroy
Now, don't faint, I know it's shocking but I've been
KNITTING
! The chilly nights we've been having lately have inspired me to want sweaters. I had started working on the
Gatsby Girl Pullover
from
Interweave Knits Fall 2006
, last month and did around ten rows and put it down
and this is the progress I've made so far. BTW, I joined a
KAL
for this because I thought it would be great to jump start me back on knitting... this should be fun!