Today's Obsession!
4:00 AM
The Fendi Collarless Coat
I was flipping through
Life and Style Magazine
and saw a picture of
Brooke Shields
wearing this fabulous coat! I instantly became obsessed with it. I googled for about 20 minutes looking for it and found these images, but no credit for the designer. Since all of the wardrobe for this show is fresh from the runway, I checked the most fabulous site I know -- Net-a-porter.com and there it was!
Even though the neckline is
collarless
and not
funnel
, the unstructured lines still remind me of the
coat
I just made. I love the way it's worn dressed up with platformed pumps and dressed down with jeans.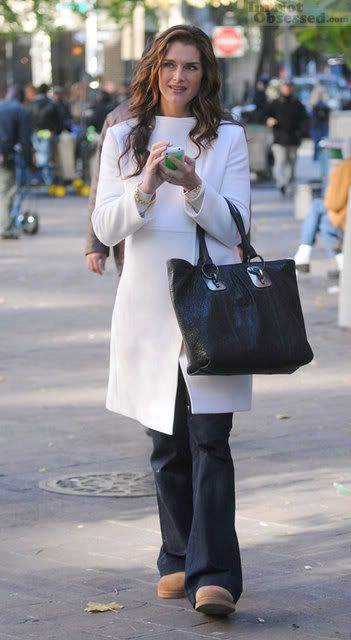 Now, I'm dying for a white coat! I have no clue if I'll get around to making one. But if I do, please be assured that it would definitely have gold hardware!
I can not believe that NBC is cancelling this show! What other fashion-forward shows do us 30 and 40 somethings have to enjoy? The wardrobe alone made this show must-see TV. It's going to be a while before I cool down about this.