All Hail the Sheath!
3:30 PM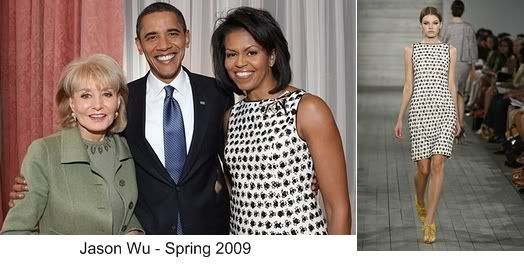 I had been wondering for days who designed the cute dress that Mrs. Obama was wearing during the Barbara Walters interview. Turns out, it was Jason Wu! (Thanks to the
Mrs. O
) Jason, you've just been put on the map! It's clear that the sheath dress will be her "uniform" of choice and I love that. This is the sort of dress that I would wear during the Spring and Summer months.
According to
The Wall Street Journal
, the dress is raw silk with hand-embroidered rosettes that took 100 hours of labor (can you imagine)! If I were him sitting there watching the interview with the rest America and there she is in his dress... I could have happily died right then and there!