BWOF 09-2007-117
12:10 AM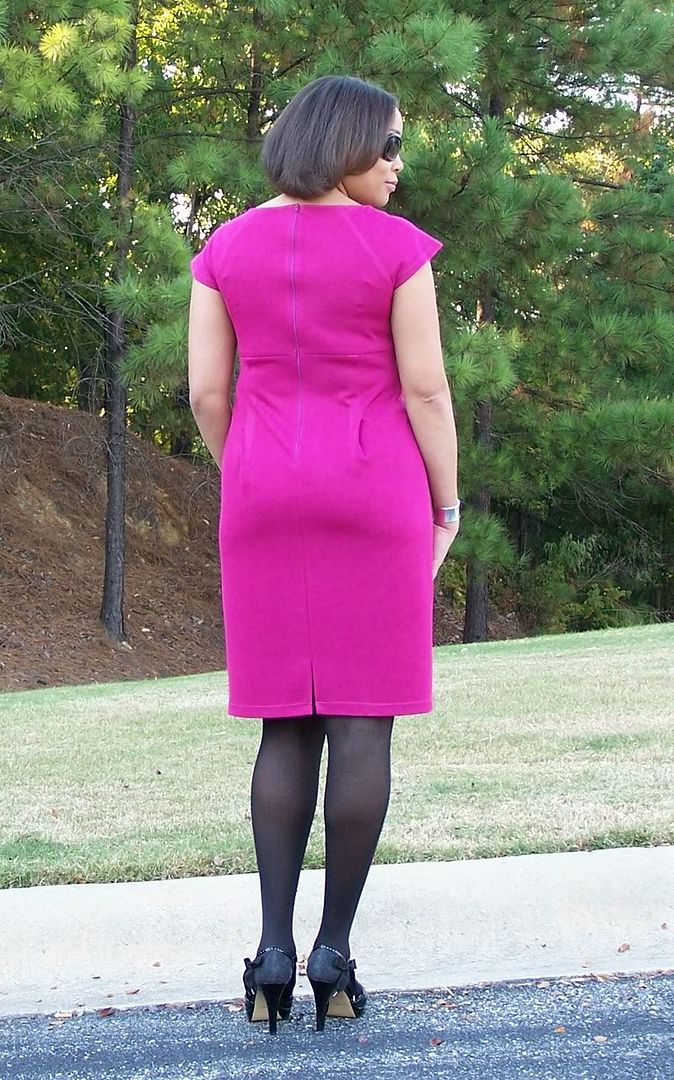 Project Details

Pattern: BWOF 09-2007-117
Fabric: Fuchsia Satin Jersey
Notions: 22" zipper


Description:
"A new version of the sheath dress, this time not cut classically straight but in tulip shape. Add some cap raglan sleeves and bright plaid fabric for a very trendy garment indeed!"
This is my very first
Burda World of Fashion
pattern! Now, I'm kicking myself because I've wasted so much time and let so many great patterns get away. The tracing wasn't as bad as I thought it would be... just an additional step and then on to cutting and sewing. The pieces are very will drafted and I am an official Burda convert!
I cut a size 40 for the bodice and blended to size 44 at the hip. I was initially concerned whether or not a FBA would be needed. I didn't have anything to go by because neither of the other sewers who reviewed this pattern on
PR
had a full bust issue, so I was on my own with this. Once I sewed my muslin, I saw that the fit of the bodice was fine, but there were a couple of other adjustments I needed to make. I had a few horizontal lines, front and back on the skirt part at the pleats. I reduced the length of the pleats by 1" which allowed me a little more ease. Also, I didn't care for the length of the zipper. It stopped right in the crack of my butt and "bubbled out" right there. I moved the stopping point of the zipper up 2" to a more comfortable spot.
Since I used a jersey knit instead of a woven, I decided to omit the lining since this type of jersey is pretty heavy and can hold it's on (with proper foundation garments of course). I also used a coverstitch for the sleeve and the skirt hems and to also topstitch the raglan seams.
I had been doing a lot of snoop shopping lately, I noticed that a lot of high-end RTW dresses (i.e. Dolce & Gabbana, Vera Wang) had "exposed zipper fastenings". I decided this would be an interesting design feature to add to this shift dress.
As you see, I omitted the collar. When I made my muslin, I didn't like the way it looked on me. I kept having the urge to pull on it. I really like the boatneck style and it really shows up the pleated bodice's detail. Another plus was that when I was making my muslin, the neckline of the dress looked really familiar to me. I scrolled through my "inspiration file" (everytime I see something that peaks my fancy, I save it) and I found it! This dress reminded me of the
RM designed by Roland Mouret - Moon Dress
, that retails for a
mere
$2,150.
I'm very happy with the way the outcome and I can't wait for an occasion to wear this.