Vogue 1034 - Jean-ius!
7:45 PM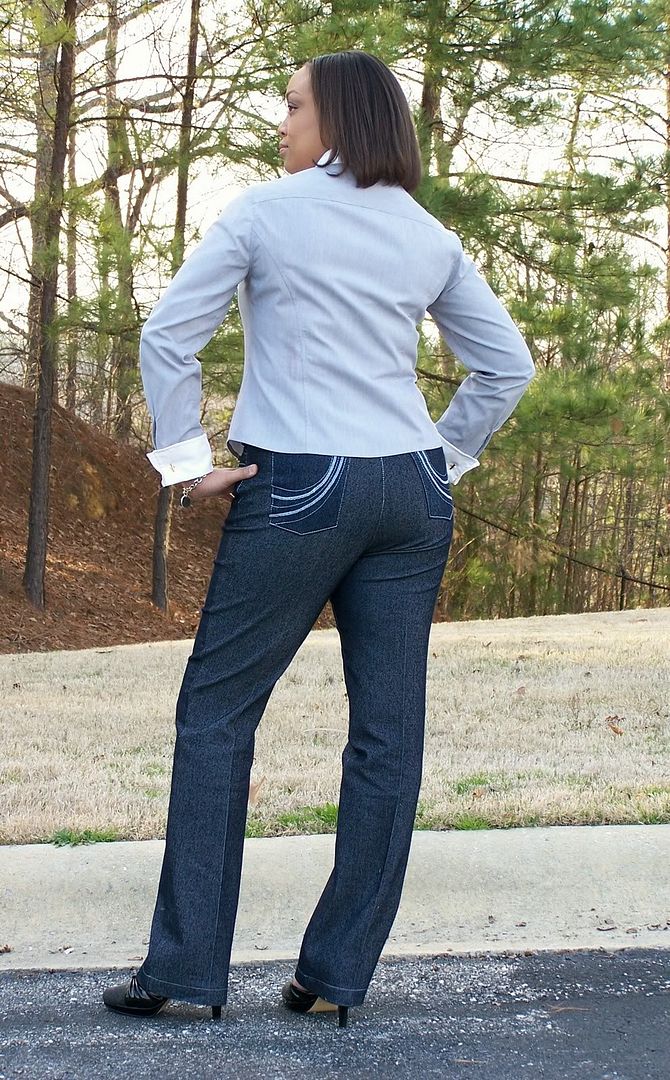 Project Details

Pattern: Vogue 1034
Fabric: Italian Stretch Denim (cotton with a small amount of lycra)
Pocket/lining: white cotton batiste
Notions: 9" brass zipper; one - 5/8" jean button


Description:
Boot-legged have below waist contour front waistband and back yoke, double-sided front pockets with button trim, fly closure, belt carriers and topstitching details.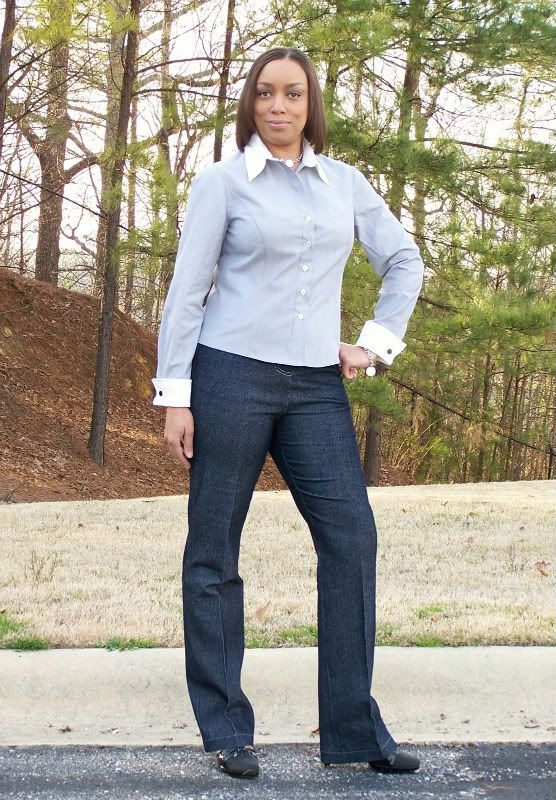 This is a great pattern by
Sandra Betzina
(get her book
"Fast Fit"
... it's great!). This was my first time working with one of her patterns. And if you are a novice to them as I were, you will be surprised at the sizing... it's based on inches. Typically of the Big 4 patterns, this one had way too much ease in it for jeans. You may want to keep in mind that denim grows and if you make these with too much ease, you will have "saggy butt" by the end of the day. I cut the suggested size and realized that mine had too much slack (of course I didn't make a muslin, LOL). I altered as I sewed.
BTW, these jeans should be marketed as "high-waisted" jeans. If you are not buying into that trend, these may not be for you because they are up there! They stop right at my bellybutton!
The instructions are fantastic. There are directions for making all sorts of pattern alterations that you may need.
As usual, I added around 4 inches of length. Initially, I looked at the pattern pieces and thought something was missing... there was not a piece for a back waistband. The way these jeans are constructed, the back waistband and the yoke are one piece. This was different but it is cut to produce and amazingly contoured waist! If you notice the front pockets they are doubled... she calls this an "Oreo cookie pocket". And yes, you have two sets of functioning pockets... not that I would ever use them, but I thought that was an interesting design feature. I used cotton batiste for the pockets. Since they are doubled, I thought that was a lot going on, so I made that as thin as possible.
Now, let's get to what I didn't like. I didn't use the welt zipper pockets, I just used the regular patch pockets. The pockets were shaped weird... too rectangular. Not the type of pockets you see on RTW jeans that are wider on top. I re-drafted the pocket based on jeans in my closet.
(Another thing that I noticed that most pattern companies fail to do, is taking into consideration that the size of the pocket should change with the size of the pants.)
Her suggested placement for the pockets were RIDICULOUSLY high... I'm talking the small of your back high! I positioned them much lower. I used a decorative stitch for the pocket design. I chose not to topstitch my seams and just left them plain. I finished the the facing with a Hong Kong finish and used a 1 1/2" hem.
Overall, I think this is a great pattern that is superbly drafted with impeccable instructions. All of the things I didn't like were based on my personal preferences. But hey, that's why we sew right?