Vogue 1092 - Tracy Reese Skirt!
12:00 AM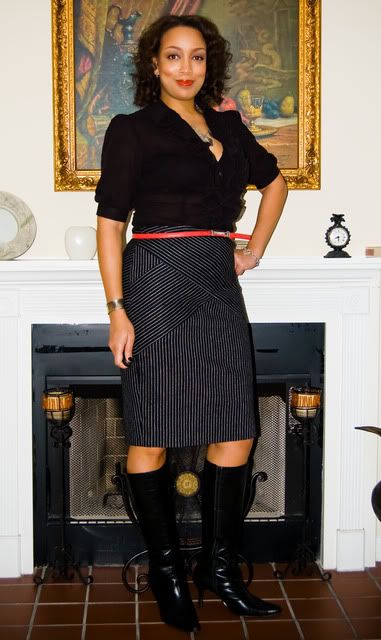 Project Details:
Pattern:
Vogue 1092 Tracy Reese
Description:
Semi-fitted, lined skirt, 1" below waistline with waistband and front band with buckles, front and back seam details, back inset and invisible zipper closing.
Pattern Sizing:
4 - 18, I cut the 16.
Did it look like the photo/drawing on the pattern envelope once you were done sewing with it?
With the exception that my stripes were closer in width, yes it did!
Fabric:
Black wool blend with chalk line pinstripes
Were the instructions easy to follow?
For this to be an "ADVANCED" pattern, it was quite simple to construct. Once you piece together the skirt front, it sews together like any other pencil skirt. That is if you over look the matching of the stripes which I think I did a pretty good job with.
What did you particularly like or dislike about the pattern?
I love all things Tracy Reese (and I can't wait to get the new patterns from her)! I only made the skirt because I knew I would get more wear out of it than both pieces. The only thing I didn't like about the skirts were the buckles at the waistband. I omitted those. I like having the option of wearing different belts and those buckles would have just been in the way. I also thought that the
godet
at the back vent and the
french tacks
at the side seams were nice details.
Pattern Alterations or any design changes you made: I lengthened the hemline by 3 inches.
Would you sew it again? No, one of these is enough.
Would you recommend it to others? Sure, why not! I do recommend that if you make this skirt, use a vertically striped fabric. A solid just wouldn't do it justice.