Vogue 8601 - The Tweed Riding Jacket!
4:45 PM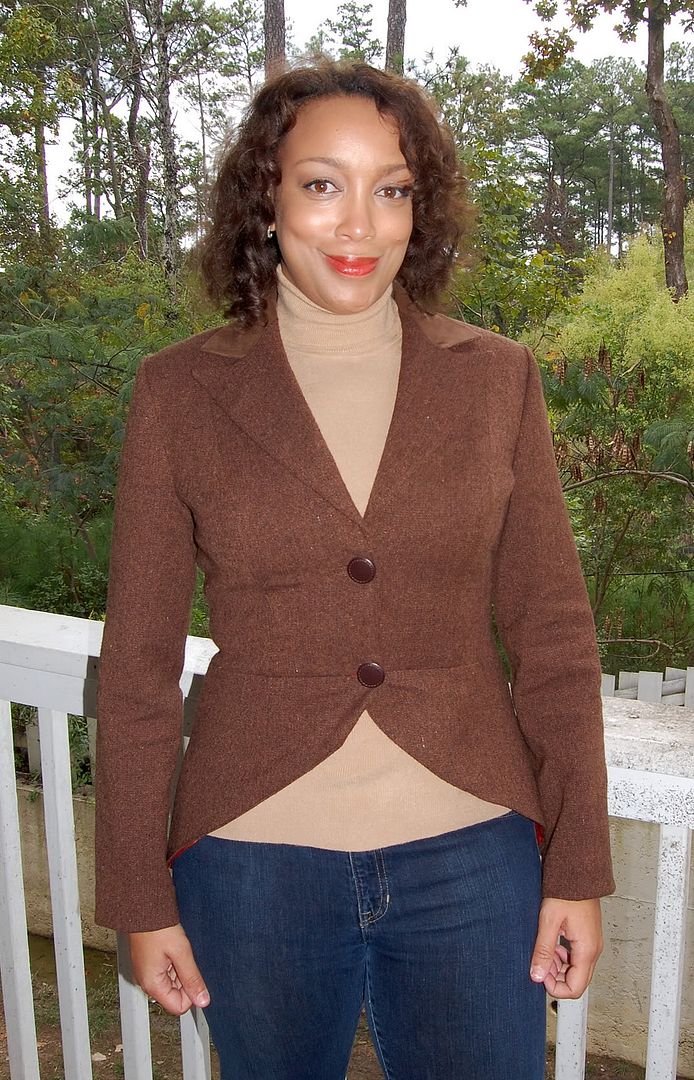 Project Details:
Pattern:
Vogue 8601
Fabric:
Brown wool blend tweed
Contrast:
Faux suede
Lining:
China silk
Description:
Jackets A, B, C, D, E are close-fitting, lined to edge and have princess seams in upper section, darts in lower section, back slit, upper and under collar, one buttonhole in waist seam and long sleeves with elbow darts. A: contrast collar and upper section. A, B, C: two buttonholes. B, D: contrast upper collar. A, B, C, D, E: back length is 30".
Pattern Sizing:
4 - 18, I cut the 14.
Did it look like the photo/drawing on the pattern envelope once you were done sewing with it?
Yes, it does!
Were the instructions easy to follow?
I didn't follow Vogue's instruction. I consulted my tailoring books.
What did you particularly like or dislike about the pattern?
I love the "riding" style of this jacket. Another great design from Vogue that falls right in line with the "Country Chic" trend. Also, this pattern could be easily translated into an evening tuxedo. I would use crepe back satin using the matte side for the body and the shiny side for the lapels. Hmmm...
The pieces are drafted great, but the only thing I didn't like about this design is that they didn't use a 2-piece sleeve. But this is just my personal preference on tailored jackets (and coats).
Pattern Alterations or any design changes you made: I made a small princess seam FBA. I
did the whole
tailoring
kit and kaboodle. I also added suede
elbow patches
that I drafted myself. They are sewn on by hand using a blanket stitch.
Would you sew it again? Would you recommend it to others? I don't know if I'll actually sew it again, but I would love to make a ladies' tuxedo from this pattern. I think it would look great in an evening style. Not sure if I'll ever get around to making it, but I'll definitely keep it in mind. If you like this style, I highly recommend it.


Conclusion:

I think I'll be sending it to the cleaners to get a good professional press, but I'm sure I'll be getting a lot of wear out of this jacket. It's the perfect weight for an Alabama Autumn!