Vogue 2942 - Donna Karan Dress
6:00 PM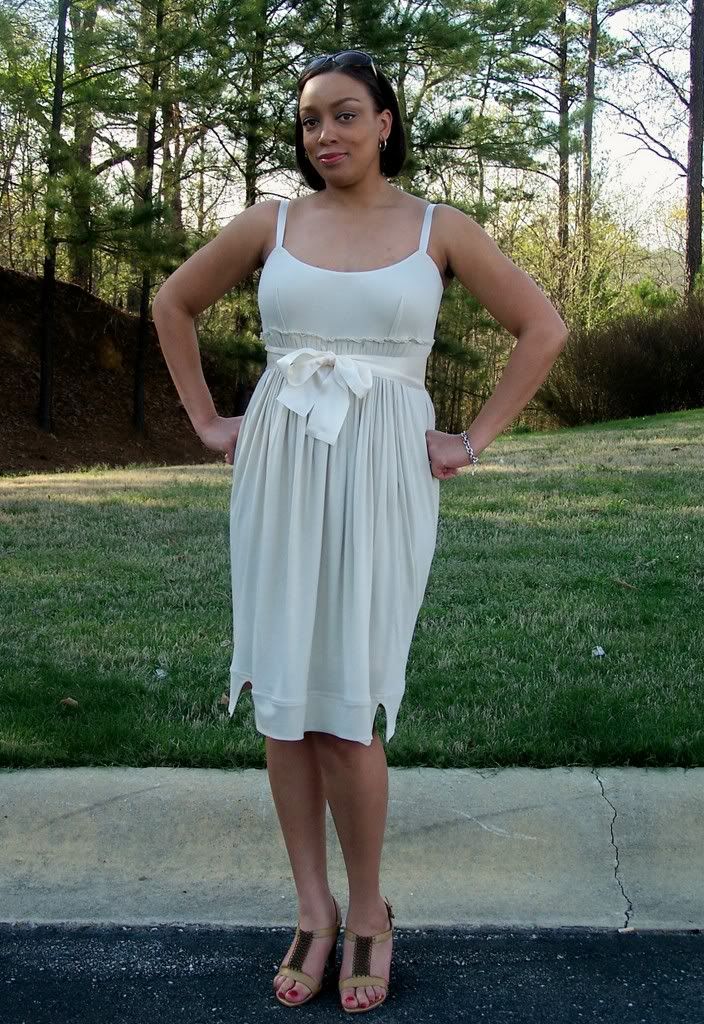 Donna Karan - Spring 2006
Project Details
Pattern:
Vogue 2942
Fabric:
Organic Bamboo Knit
(97% organic bamboo/3% spandex)
Lining:
Tricot (100% polyester)
Notions:
1 3/8 yds. of 5/8" Ribbon; 1 1/8 yrds of ¼ elastic
Description:
Tapered, lined, pullover dress, below mid-knee has close-fitting bodice, purchased ribbon shoulder straps, raised waistline, in-seam pockets, pleats and hem band with side slits.

This dress is Vogue Pattern's interpretation of one of the pieces from Donna Karan's Spring 2006 collection. I decided to only do the dress. This pattern is rated "Vogue Average" and has 13 pieces. The instructions were very easy to follow and the pieces were laid out well. I did however make small modifications. If you decide to make this dress, be sure to notice the length.
I'm 5'9" barefoot and this dress would have stopped mid-calf on me. I adjusted all of the skirt pieces by shortening them by 3", so that when I added the hem bands it would fall just below the knee. No FBA was necessary since the darts lined up perfectly according to my bust measurements. Elastic is placed at the top of the bodice's back and front. I sewed this in using a stretch stitch (or I'm sure you also use a zig-zag).
One unique design feature is that the darts are sewn on the outside -- that's something you may want to pay close attention to. The skirt is attached to the bodice by leaving the pleated edges raw and sewn on top of the bodice. The overall construction of this dress is quite simple but the making of the pleats was really time consuming. I really like this dress and loved the way it is constructed. It's very comfy and flowy. I also decided to add a 2½" ribbon sash to provide a little more definition.