Book Review: "Couture Sewing Techniques, Revised & Updated"
11:30 AM


Paperback: 240 pages
Publisher: Taunton Press; Second Edition edition (May 24, 2011)
Language: English
ISBN-10: 1600853358
ISBN-13: 978-1600853357
Description:
The world of haute couture is a place where only a privileged few can ever hope to reside, right? Wrong. Fashion historian Claire B. Shaeffer opened the door to this exclusive realm in her authoritative guide to the techniques that define couture sewing. And now, the industry bible, Couture Sewing Techniques, has been revised and updated throughout — with new photos and a chapter on specialty fabrics. No one can unravel couture garment construction the way Schaeffer can, from the art of hand sewing to mastering edge finishes, from classic closures to shaping a garment for a perfect fit. Readers learn all the basics — and more importantly: how to apply the techniques — on skirts and sleeves, pockets and jackets, evening gowns, and more. Gorgeous photos, clear illustrations, and concise language combine to make this the most complete couture-sewing course available.
I thought about doing a comprehensive "review" of this book. But I don't think that's necessary. We ALL know that Claire B. Shaeffer's original
"Couture Sewing Techniques"
book is the go to source for
REAL
couture
sewing! Not neat RTW finishing effects, but actual couture! So this book has just been re-vamp and it is a MUST HAVE for those of us that like to keep our sewing game "stepped up".
This book is divided into two parts:
Part One - "The Basics of Couture Sewing"
Chapter 1 - Inside the World of Haute Couture
Chapter 2 - The Art of Hand Sewing
Chapter 3 - Shaping the Garment
Chapter 4 - Edge Finishes
Chapter 5 - Closures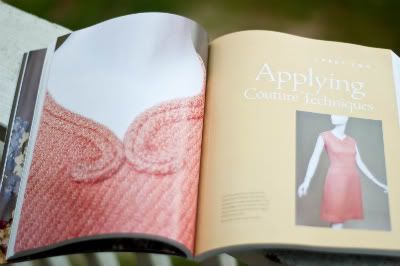 Part Two - "Applying Couture Techniques"
Chapter 6 - Skirts & Pants
Chapter 7 - Blouses & Dresses
Chapter 8 - Sleeves
Chapter 9 - Pockets
Chapter 10 - Jackets & Coats
Chapter 11 - Designing with Fabric
Chapter 12 - Special Occasions
I also purchased her DVD: