Vogue 2732 - Project: Homecoming - The Finale!
7:10 PM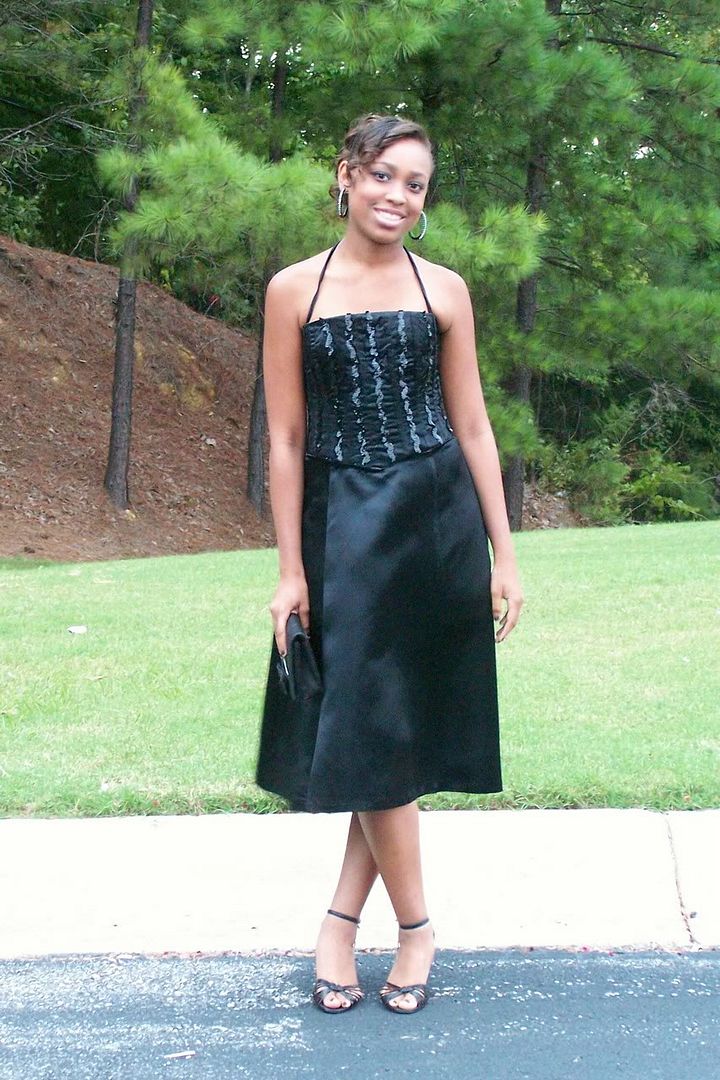 Project Details
Pattern:
Vogue 2732

Fabric:
black bridal satin
Lining:
100% polyester basic lining fabric
Underlining:
Netting

Notions:
18" invisible zipper
4 3/4 yds of boning
1 1/2 yds of 5/8" grosgrain ribbon
1 yd of 1" grosgrain ribbon
5 yds of 5/8" sequin trim
hooks and eyes
seam binding
embroidery thread
hem tape
bra cups
Description:
Badgley Mischka inspired lined evening dress, tea-length, has close-fitting, boned bodice, dropped shaped waist bodice with princess seams, flared skirt and back zipper closing.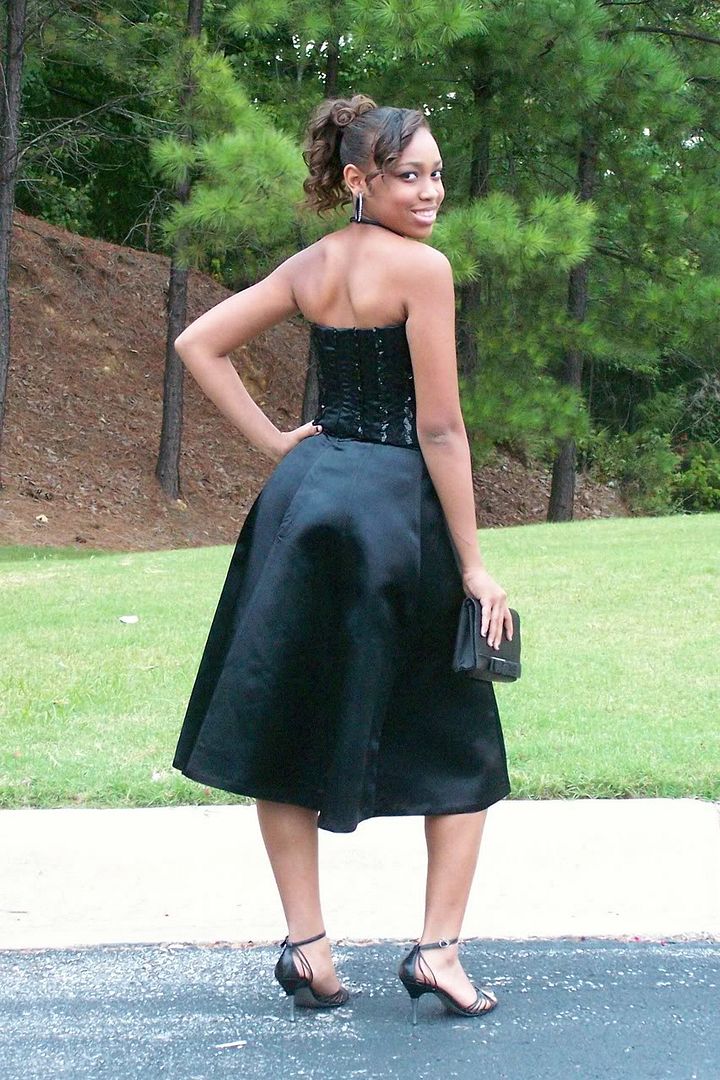 I chose this dress for my 15 year old daughter's homecoming dance. I cut the bodice is a size 6 flaring out to a size 8 at the waistline. I cut the skirt in a size 8. Amber is 5'3", so I made the petite adjustment on the bodice by reducing the length by 1". Also, we decided against a floor length skirt and cut it down to tea length.
Underlined the 16 bodice pieces with the netting.
Sewed them together, pressed all seams to the right.
Topstitched the right side 3/8" from the seamline with the embroidery thread.
Added the boning.
Handstitched the sequin embellishment to the right side.

Added the bra cups.
Sewed lining pieces in the same manner as the bodice.
Sewed the neckstrap and attached it to the bodice.
Attached the lining to the bodice.
Sewed grosgrain ribbon to the inside of the top of the bodice.
Sewed skirt and skirt lining pieces with french seams.
Sewed bodice to skirt.
Handstitched invisible zipper with tiny backstitches.
Slipstitched lining to zipper tape and bodice lining to skirt lining.
Added hook and eye above zipper.
Added dress hangers using 1/4" wide bias twill tape.
Added a waist stay.
Allowed dress to hang for 24 hours so bias cut skirt could set.
Created lining hem by turning edge up 1/2", stitching and repeating.
Created dress hem by turning edge up 1/2", stitching once, added hem tape by machine stitching to the edge and handstitching hem with prickstitches.
This is a great pattern. There was nothing that I disliked and we both love the corset-style bodice. The drafting is superb... all of the pieces matched perfectly. The instructions were well written and very easy to interpret.


References:

1. Khalje, S. (1997).

Bridal couture: Fine sewing techniques for wedding gowns and eveningwear


2. Shaeffer, C.B. (2001). Couture sewing techniques
3. Ciemnoczolowski, R. (2007, Summer). Build a better bust.

Sew Stylish

, p. 41
4. Keuler, J. (2007, Summer). Secure your shape.

Sew Stylish

, p. 71