Mini-Wardrobe Contest!
3:00 PM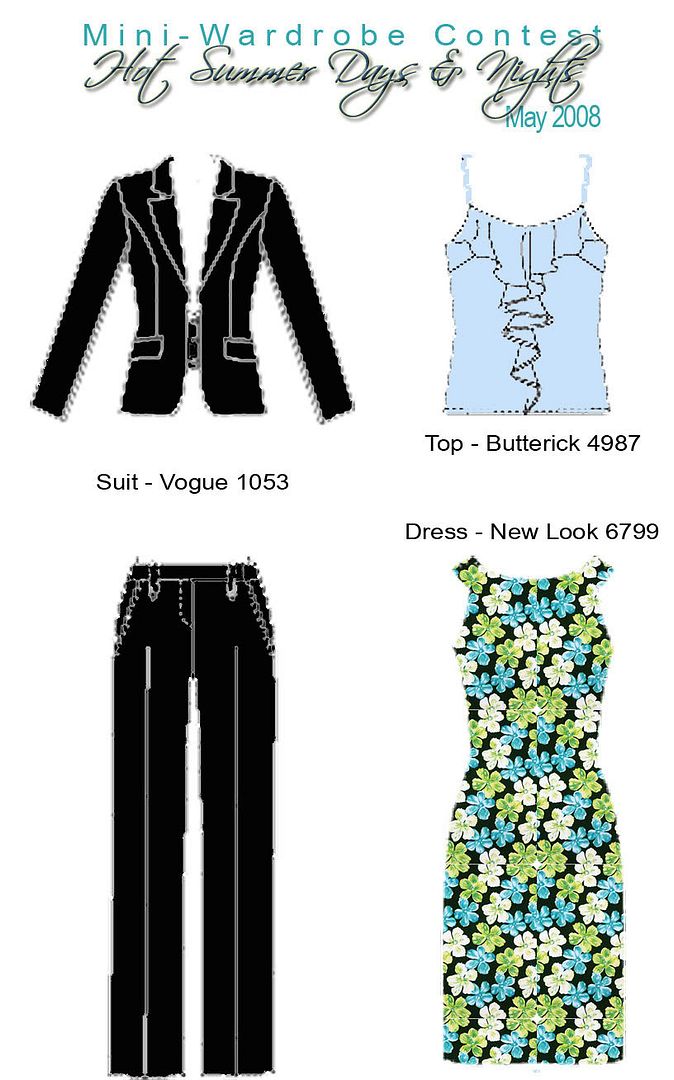 I haven't been motivated at all to participate in any of the S.W.A.P.s or Wardrobe contests until now. Pattern Review.com is sponsoring a Mini-Wardrobe contest:


This is a contest to create a 4-piece wardrobe in 4 weeks. Those pieces should fit one of the following three frameworks:
1) 2 bottoms and 2 tops - 1 may be a jacket
OR
2) 1 bottom and 3 tops - 1 (no more than one) may be a jacket
OR
3) 1 bottom, 1 dress or jumper (overdress), and 2 tops - 1 may be a jacket. If a jumper is made, it should go with both tops (i.e., function as a bottom). If the dress option is chosen, it need not be worn with the other garments in the wardrobe, however it should tie to the rest of the wardrobe in theme and possibly be compatible with the same handbag or shoes or accessories.
All pieces must coordinate with each other.
I've decided to go with Option #3.
Dress -
New Look 6799, view C
- floral pique
Pants & Jacket -
Vogue 1053
- black dupioni silk
Top -
Butterick 4987, view C
- light blue silk
With only 2 weeks left, it's doubtful that I will finish on time, but I will finish!