One-piece sleeves vs. two-piece sleeves
1:45 PM
Since it's coat season and a lot of sewers are participating in the jacket sew-a-long, I thought I'd discuss sleeves:

one-piece vs. two-piece sleeves

to be exact.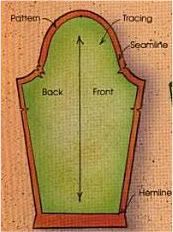 This is a "symmetrical" one-piece sleeve which you probably see a lot. This is my LEAST FAVORITE draft for a jacket -- especially one that is "supposed" to be tailored. I find this draft to be disappointing. Let's face it, our arms just don't hang straight and stiff.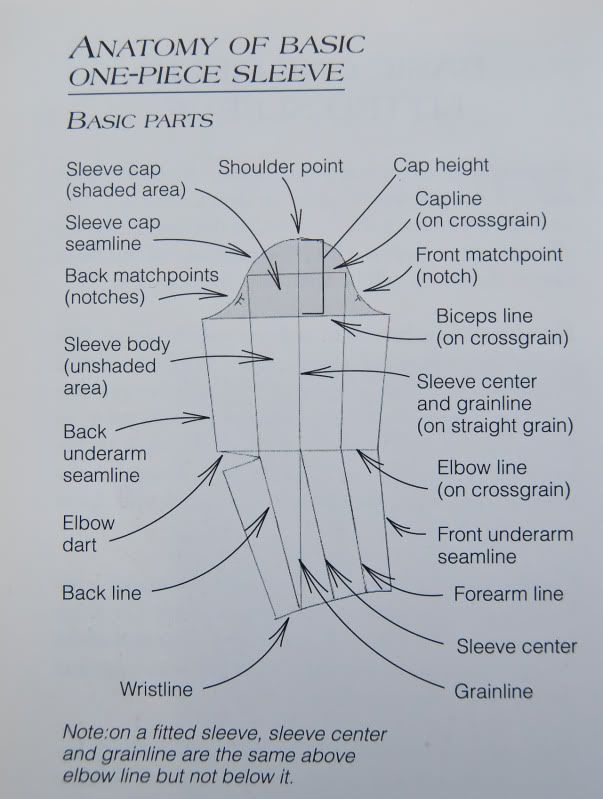 Now this one-piece sleeve is slightly different. I've actually made a tailored jacket with a sleeve like this one. You'll notice that there is an
elbow dart
which "shapes the fitted sleeve to follow the curve of the arm and provides fullness to allow for bending the elbow." (Shaeffer, Claire.
Couture Sewing Techniques
.)
The

two-piece sleeve

has seams which appear at both the front and the back of the arm. The under section of the sleeve will actually be a tad bit smaller than the upper part of the sleeve. This will make the seam appear less noticeable on the finished garment. The seams of the two-piece sleeve also fall slightly off center from the front and back of the arm. With the seams falling in the offset places, they are then less apparent when the apparel is worn. This strategic placement of the seams allows for greater range of motion.
In my opinion, the two-piece sleeve is the BEST option (for ME) for jackets and coats because it gives a more tailored appearance.
I'm currently working on a jacket now. The pattern only offered a one-piece. And the look that I am going for is nice tailored sleeves with a vent. I thought for a split second to try and convert the one-piece. That seemed really, really daunting to me. So I ended up jacking a sleeve from another pattern that I liked.
Do YOU have a preference on jacket and coat sleeves?